Hampi is located in central Karnataka, approximately 350 kilometers from Bangalore. It was once the last capital of Vijayanagar, one of the greatest Hindu kingdoms in India's history. An architectural marvel, archaeological importance, religious magnitude, scenic exquisiteness is what Hampi is known for. Hampi, a temple town was the former capital of the Vijayanagara Dynasty and is now recognized as the World Heritage site by UNESCO. It is situated on the banks of Tungabhadra River, located in northern Karnataka.
Hampi is undoubtedly tourist's ecstasy and pilgrim's bliss. Among the attractions of Hampi are grandiose temples, remains of palaces, mysterious boulders, ancient market streets, royal platforms and pavilions, citadels, etc. The mythical landscape, lofty mountains and smoothly flowing River further raises the attractiveness of the place and is an ideal destination for birders and photographers. There are various engrossing places to visit in Hampi see a perennial influx of history-buffs. If you enjoy local color and culture, make sure you go during the three-day Hampi Festival. The oldest temple in Hampi is Virupaksha temple is located on the banks of the Tungabhadra.dedicated to Lord Virupaksha, an incarnation of Lord Shiva.
The fascinating places to see in and around Hampi are the celebrated Virupaksha Temple, which dates back to the 7th century. The Lotus Mahal and the Stone Chariot that reflect the architectural skills at the Vittala Temple complex are also not to be missed. Archaeological Museum, underground Temple dedicated to Shiva, hilltop Monkey Temple, and Badami cave temples are few other places to visit. A must visit is Bellary, 60 km away from Hampi, known for the largest single rock mountain in the world. Bellary Fort is also a tourist attraction.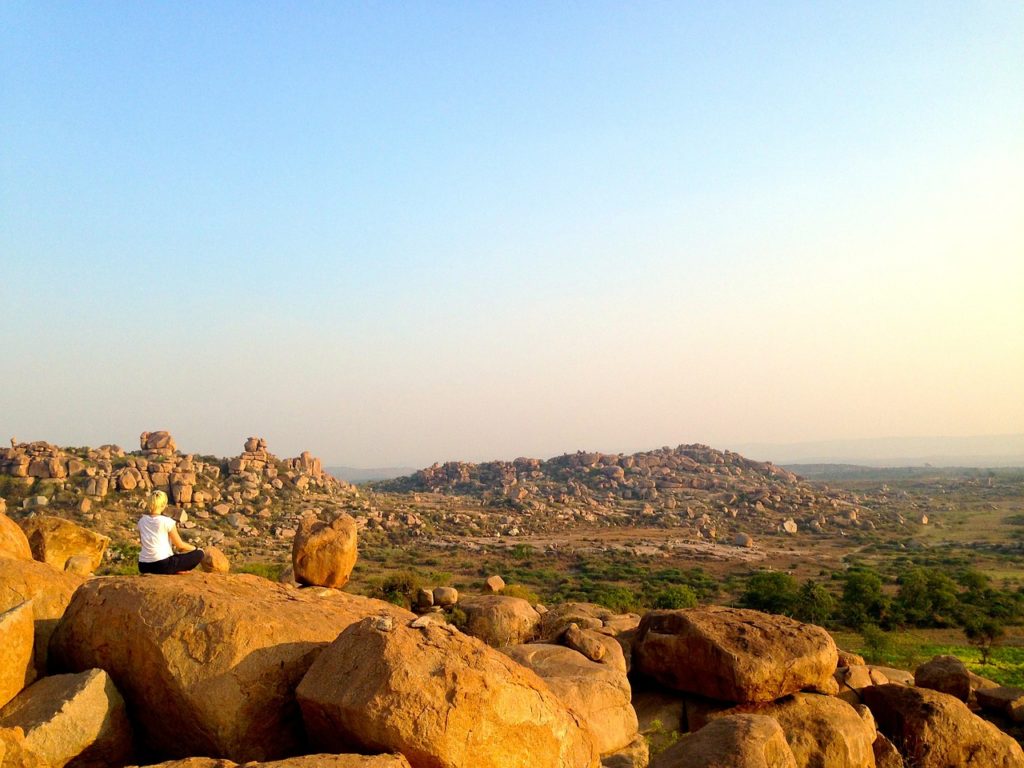 Hampi festival is one of the largest celebrations of the ancient Vijayanagar empire
Hampi Utsav also is known as the Vijaya Utsav, is an annual festival held in the month of November. The place takes on a vibrant look and Hampi Bazaar/ Market becomes the center of all festive happenings. The festival attributes to the mega cultural and religious extravaganza and renowned artistes from all over India showcases their rich culture in the fields of dance, music, and art. Located on the outskirts of Hampi is Kishkinda Camp, the best place to stay. The 10 elegant colonial safari-themed tents are replete with luxury mobile camping experience. The leather-bound trunks, four-poster beds, comfortable armchairs, teak bathrooms, and all give an idyllic setting filled with opulence. A personalized butler is there for ultimate comfort and seamless services. The team of experts prepares an array of delicious and authentic food; all made using seasonal fresh produce.
Karnataka, the southern State is also known for its exotic beaches, filter coffee, and incense aroma. While in Karnataka add Bengaluru, Coorg, Mysore, Chikmagalur in your bucket list. Castle & King your travel partner promises to arrange a historic tour, guided walks, and exciting excursions.
For more information or to start planning your holiday to India Please contact us:
info@Castleandking.com  +91 9818885102
FEATURES IN THE FOLLOWING ITINERARIES
https://castleandking.com/product/central-southern-india-tour/