The first sight that meets your eyes at the Jaipur airport is a spectacular array of jewels. Encased in glass boxes, beautiful necklaces, opulent earrings, and exotic bracelets twinkle from their plush velvet-covered corners. These are not just ordinary corners meant to be overlooked, but strategically placed positions which are guaranteed to grab eye-balls.
The display is so bedazzling that first-timers and some seasoned visitors like me cannot help but stare open-mouthed. The message is not so subtle and Jaipur immediately welcomes you to the royal, exotic Pink City. The image works wonders for this UNESCO Heritage Site and Jaipur is indeed a treasure trove of amazing things to buy. Its princely past coupled with the royal patronage of arts has made Jaipur into an enchanted place. The city has a cornucopia of beautiful traditional handicrafts to boast of and Jaipur has a huge flourishing artisan base. No matter, what your style is, Jaipur offers some of the best that money can buy. Read on to find out about what to shop for on luxury India tours in the beautiful Pink City.

Hand-block printed fabrics of Rajasthan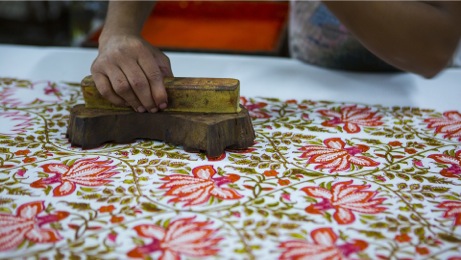 Rajasthan artisans produce some of the finest hand-block printed fabric in India. Exquisite styles like Dabu, Sanganeri, and Bagru printing flourish here and they are uniquely different. The highest quality of Rajasthani hand-block printed fabric comes in cotton with vegetable dyes. This centuries-old art produces artisanal textiles that sell at very high prices abroad and you can buy lengths of them in Jaipur at less than half their price. These fabrics can be made into beautiful home linen, skirts, shirts, scarves, etc.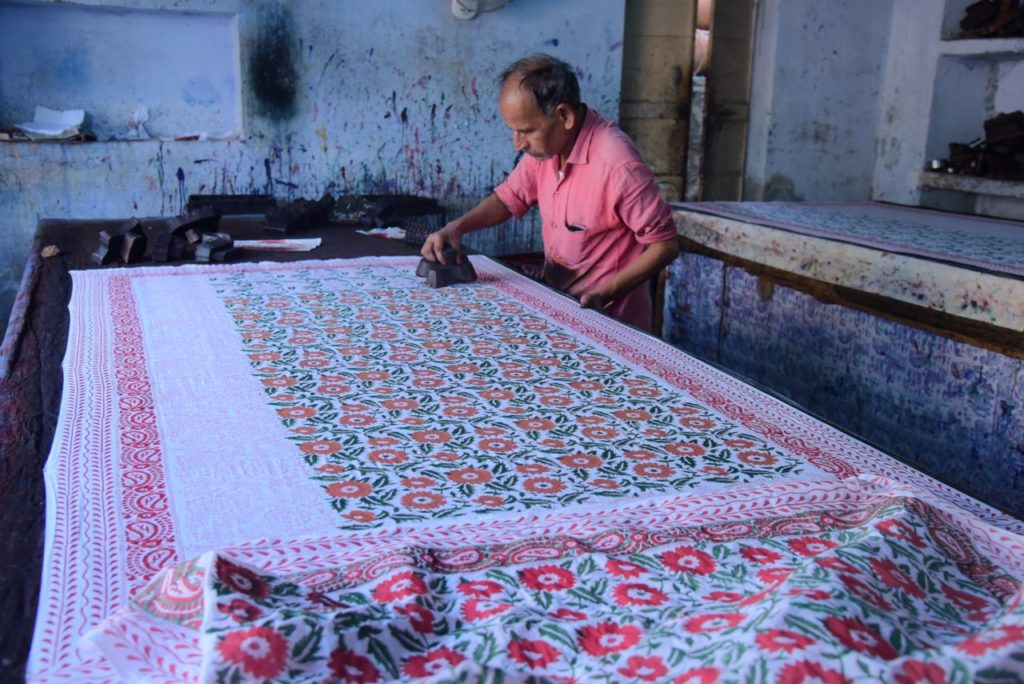 Another is the most famous hand-block printed store in Jaipur and most luxury India tours include a visit to its museum. The cheaper and more sustainable option is to buy from a block printer at Sanganer. The quirk lovers can also buy the wooden blocks to take back home as souvenirs. These blocks are also hand-carved and artisanal items.

Exquisite Gota Patti embroidery items
Gota Patti or Gota-Kinari work originates from Rajasthan. A very distinctive embroidery, it has been popular since the time of the Mughals and can a serious dent in the wallet. Gota work always includes a metal ribbon to form several shapes and motifs before being stitched onto the fabric or piece of cloth. The width of the ribbon depends on the fineness of the design. Since it is an extremely time-consuming process and looks astonishingly glamorous upon completion, a real gota Patti embroidery item can range from 250 INR per meter to a few thousand. The price depends on the intricacy of the pattern along with the type of metal used in making the embroidery. Most luxury India tours can include a visit to a high-end designer store as a part of the Jaipur shopping expedition. Check out Anita Dongre's flagship store for beautiful gota patti work. For cheaper, but good quality gota patti shopping, head for artisan's workshops in Johari Bazaar. Rana's is a good option.
Pick up some leheriya on luxury India tours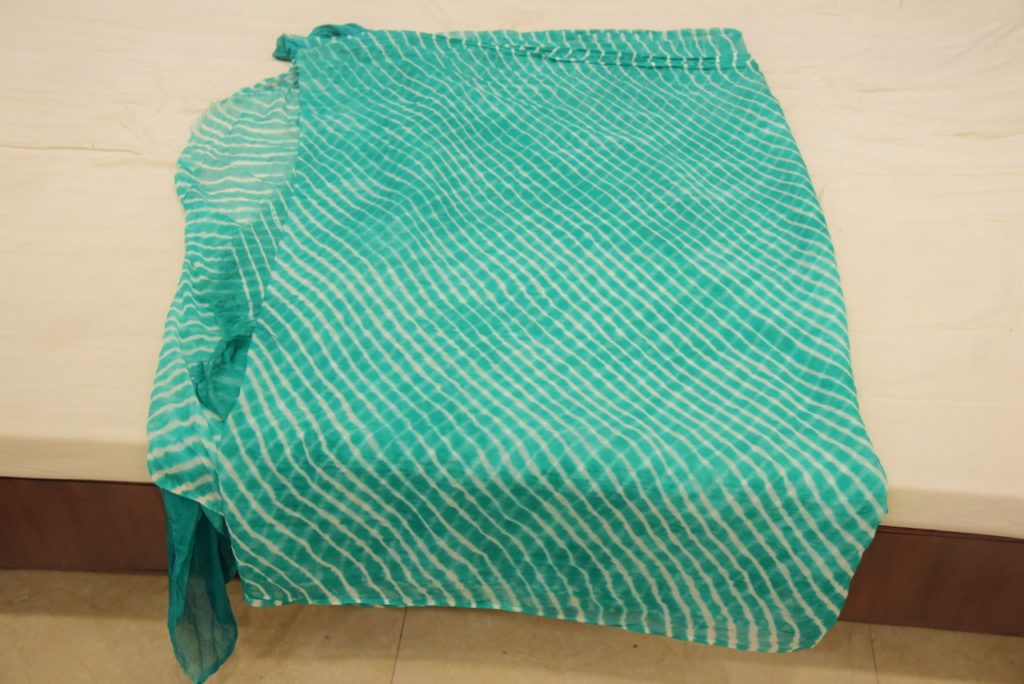 In Rajasthan, the rare event of monsoon rain is celebrated with much pomp and grandeur. You may think why, but considering that it is an arid state, rain is a much-anticipated phenomenon. Sawan or the monsoon is celebrated with special festivals, dishes, songs, and women sport gloriously beautiful leheriya designs on their attire. Leheriya in Rajasthan I considered a monsoon pattern and the name is derived from the word "lehar" meaning waves. Thus the patterns are beautiful and wavy, representing ripples and look beautiful as saris, dresses, skirts, scarves, and home-linen. The lines may be thick or thin, are usually dual-toned, and come in a wide variety of color combinations. This is a truly beautiful dyed textile and don't forget to buy some on luxury India tours. Go shopping in Johari Bazaar for the best leheriya fabrics.
Tie and Dye or Bandhani fabric
This is the signature design of Rajasthan and a must buy during luxury
India tours. A tedious, time-consuming process, threads are tied around in various parts of a fabric before it is dyed to create beautiful patterns in polka dots. These patterns can be circular, geometric, floral, or chevron. The base colors can be bold or pastel and you can even have a beautiful multi-hued Bandhani fabric. Unstitched fabrics can be converted into garments, home-linen, scarves, and even belts. Pick them up either in chiffon or cotton at Jaipur Johari Bazaar shops.
Kundan jewelry for the discerning traveller
Kundan has its origins in royal courts of Rajasthan. This princely state always had a state for the beautifully ostentatious and there is nothing subtle about Kundan jewelry. Drop-dead gorgeous, Kundan is the style of uncut stone jewelry. The beauty lies in the perfection of the huge uncut stones which are set in metal with a gold leaf around them. This is the type of jewelry which is on display at the Jaipur airport and Kundan can make the wearer feel rich immediately. Though more suited for Indian wear, some Jaipur designers are making bespoke Indo-Western Kundan statement jewelry for the fashion-conscious. Serious shoppers can request for Kundan jewelry store visit on customized luxury India tours.
Minakari Jewellery are must buy on luxury India tours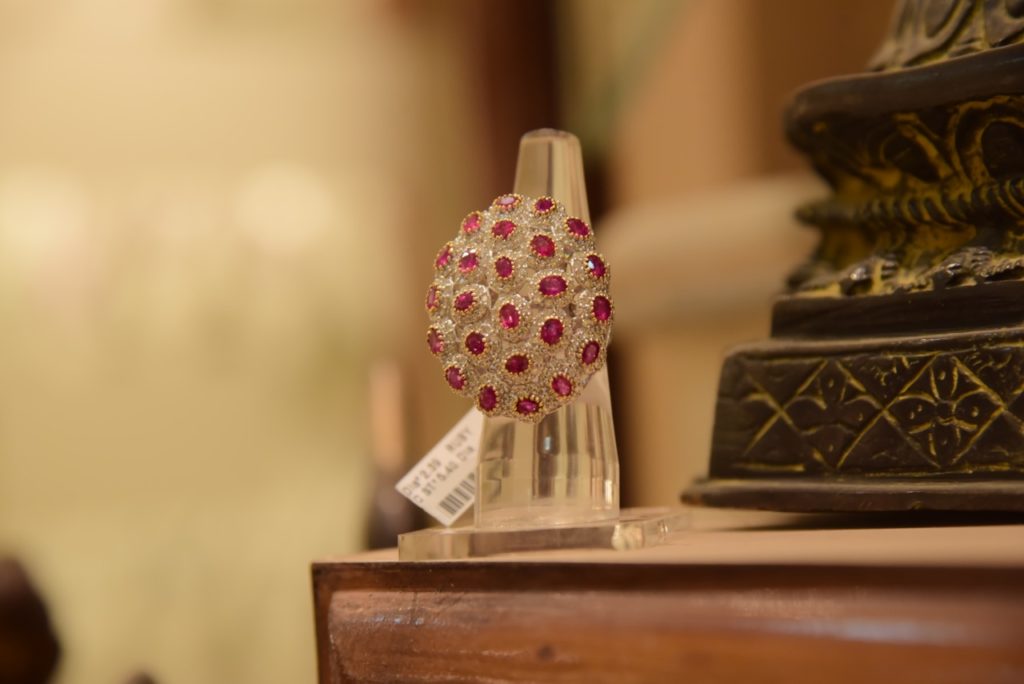 Meenakari work is a centuries-old art of enameling a metal with vibrant designs. Traditionally done in red and green colors, meenakari objects range from jewelry to home decor items made of metals. This is a truly
versatile craft and suits all pockets. It is believed to have originated in
Persia and introduced in India by the Mughals. In the 16th century, art-
loving Raja Mansingh, the ruler of Jaipur invited some skilled minkars or meenakari craftsmen from Lahore to set up workshops in Jaipur. The
rest they say is history and Jaipur is the hub of meenakari work in India. This lightweight, but the gorgeous craft is a must buy in Jaipur.

Shop for Jaipur gemstones on luxury India tours
Over the years Jaipur has established itself as the gemstone capital of the world. The jewellery craftsmen and gemstone cutters of the Pink City are unparalleled in their skills. Many famous designer houses source their gems from Jaipur and a walk through Johari Bazaar or around Hawa Mahal will reveal hundreds of gemstone shops selling emeralds, rubies, tanzanites, pink quartz, etc. Look around, choose the stones you like, bargain hard, and you can even get them cut or string in your desired design. In Jaipur especially on luxury India tours, this is an unmissable bargain.

Select beautiful hand-painted Jaipur Blue Pottery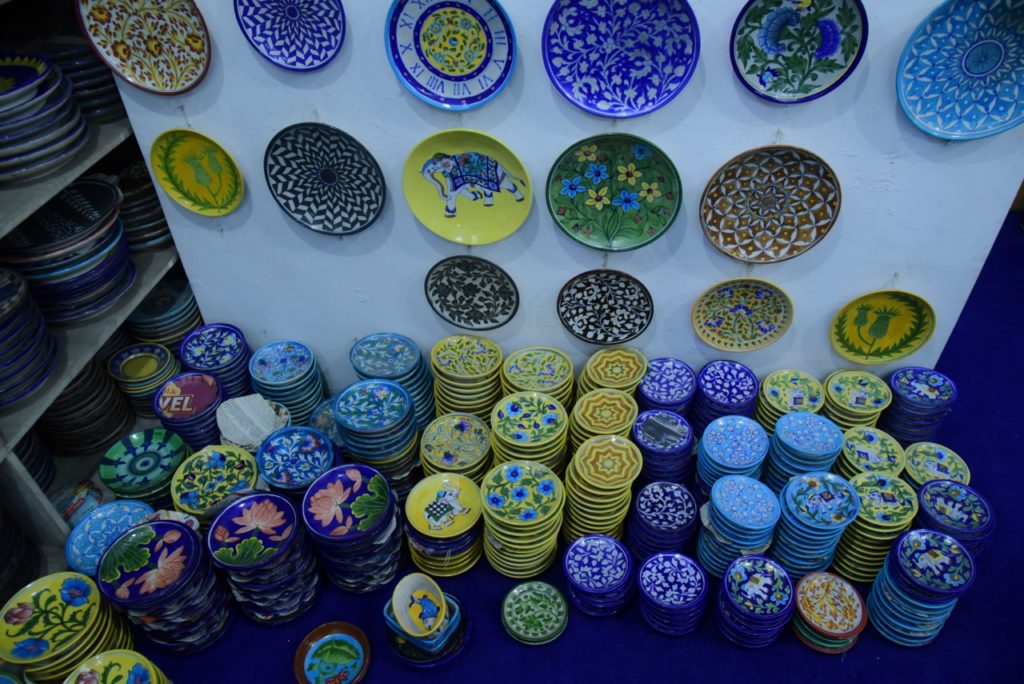 Jaipur Blue Pottery is as pretty as its namesake. Plus it is a special kind of pottery that uses crushed stone instead of clay. Originating from Persia and popularized by the Jaipur royal family, this pottery predominantly comes in blue and yellow colors.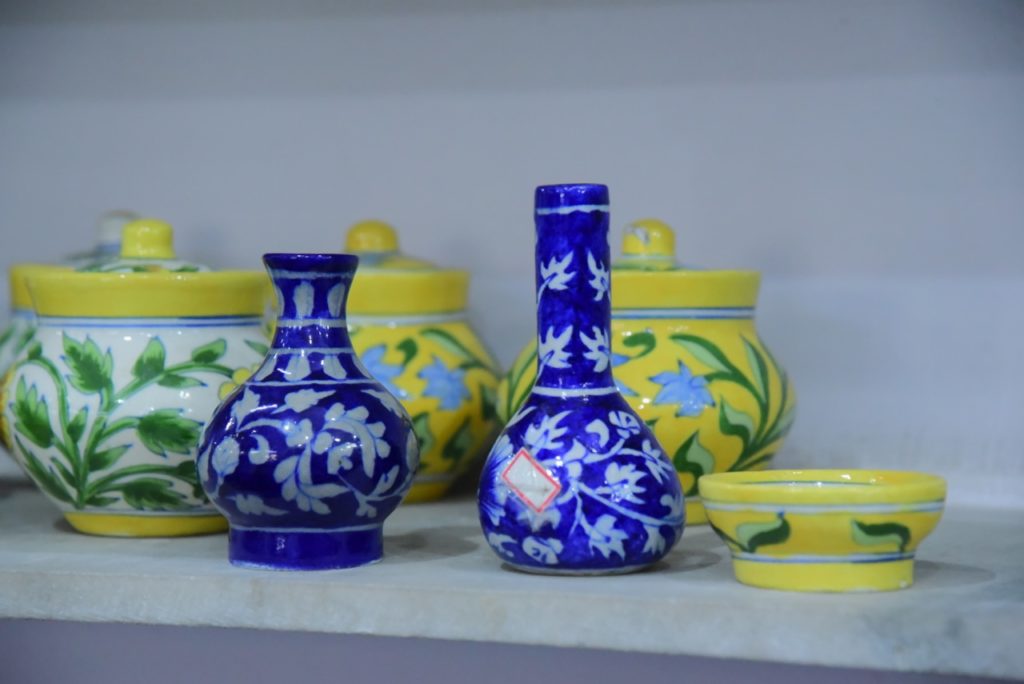 There are many items available and one can shop for doorknobs, plates, vases, soap cases, boxes, and tiles in Jaipur Blue Pottery. You can find them nearly everywhere in Jaipur and many emporiums even offer workshops.

Customize luxury India tours for shopping in Jaipur
These are but some of the few unique things to shop in Jaipur. There are loads of other lovely things for sale and you can buy traditional puppets,
bags, camel leather items, feather-light Jaipur duvets, and much more.
No matter whatever you buy, I am sure you will enjoy visiting the vibrant Jaipur bazaars on luxury India tours. The only problem may be the temptation of going on a wallet denting shopping spree. Don't blame me later that I had not warned you. Jaipur is a shopaholic's dream.