Creation gives one a platform to be creative in creating a dynamic balance of thought and skilled handwork. This creative creation can leave any viewer spellbound if it is synonymous with exquisiteness. Ideally, it should withhold an exclusivity, be evolving and efficaciously designed, thus fulfills the parameters of being at par fineness.
There is no certain way of making art, creation can be an artwork, a craft or a handloom. India, the diverse land is multifarious as it is home to many artists, artisans, and weavers that have been always in its culture. The fabric that our culture dons are livid and vivid and for many centuries our countrymen have been successfully preserving it and are passing it from one generation to another. Additionally, it has found a place in the heart of the visitors traveling to India and returning back with a new and unique experience.
Explore India's Unique Art & Craft
To be acquainted with such rich art heritage one would definitely require a year in visiting different states of India to pick the specialty and individuality. Therefore, whenever you plan your visit to India for a couple of weeks, for few days make sure your travel itinerary or luxury tour includes visiting the art, craft, textiles zones, gallery, etc. One can even do a short course or grab an opportunity of attending a workshop to learn any art form. 
As a cultural center of its time, Delhi attracted the best of painters, craftsmen, and artists
To begin with, in New Delhi, delve into the modern and contemporary art by visiting private art galleries opened in Hauz Khas, Lado Sarai, Mehrauli-Gurgaon Road, and Shahapur Jat or visit exhibitions organized at AIFACS, Visual Art Gallery at the India Habitat Centre and Lalit Kala Academy. Take a half-day tour at your leisure in understanding different nuances of art and also appreciate the same. Your next hop-stop could be the Craft Museum celebrating traditional crafts and skilled industries. Here visitors can see 50 craftspeople every month from different parts of India. One can also take a view of performance and exhibitions. Also, take a short drive to Pilkhuwa and see the well-known bed sheet weaving, bamboo crafting, intricate wooden block carving, block-printing, paper mache, and needlework.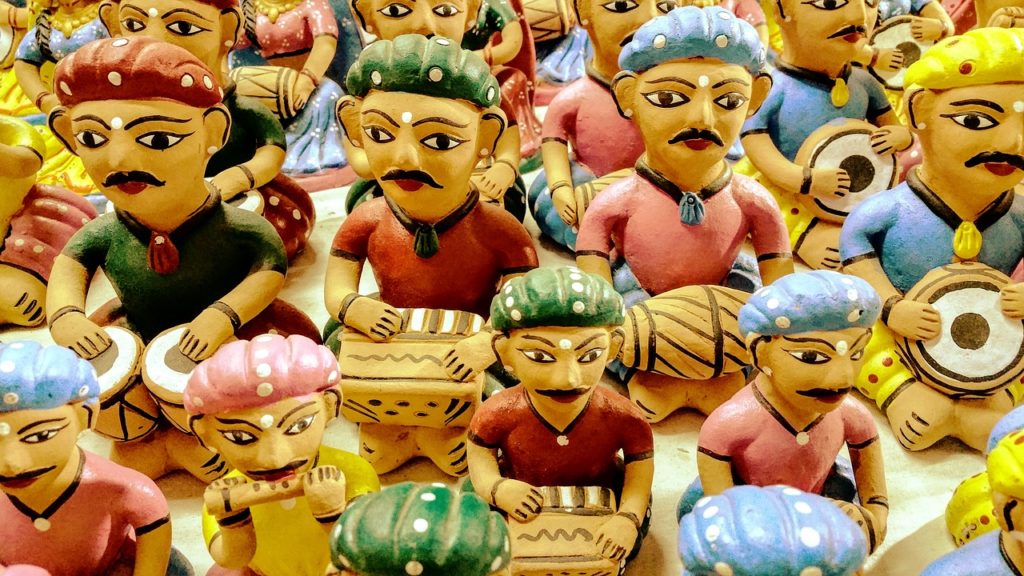 Kashmir is considered to be a treasure trove of arts and crafts
Kashmir is popularly known as heaven on the earth and attracting tourists across the globe. Traveling next to the Northern part of India, the vibrant culture of Jammu & Kashmir has many attractions in handicrafts and textiles that can make you amazed. Here primarily comes Kashmiri Pashmina shawls, a luxury fabric woven in the region for decades by Kashmiri artisans. Kashmir is also known for carpets, both of wool and silk with their Persian designs; crewel embroidery on furnishing material can be bought too as will definitely add finesse to the look of your home. Next, from the state of Uttrakhand can pick rugs, carpets, baskets, wooden windows or the folk art Aipan made by the communities in Uttrakhand as having a unique touch of nature in their designs. From Punjab, the artistic creations are acclaimed all over the world which includes Juttis, Paranda, Durries and folk toys. Phulkari, factually meaning the flower embroidery, is designed to augment the beauty of apparel. It is an art form, in which delicate embroidery is done over shawls, dupattas, and headscarves.
The cultural heritage of Uttar Pradesh is rooted deep into its fabric
Vivid and ancient like the land, arts and crafts in Uttar Pradesh are a timeless treasure. From Uttar Pradesh, lauded for its artistry, can pick Chikankari or chikan work material, skillful embroidery done on fabric using white thread; Zardosi embroidery is famous in Varanasi, rich golden threads are used to create stunning designs and patterns on saris and other dress materials. Firozabad is famous for glassware also called 'City of bangles', machines are used to create items like show-pieces, utensils, toys, etc. Stone Craft of Uttar Pradesh especially from Agra is very popular, thin marble slabs/stones are etched for hours to give them a meaningful shape and design. Buying souvenirs of miniature Taj Mahal, the iconic wonder of the world, made in marble is very popular amongst tourists.
Jaipur is known as Shoppers Paradise for Its Arts and Crafts
Moving on to the West, the next destination is Jaipur, well-known for Handicrafts and textiles, also famous for its rich culture and glorious past, Jaipur is the capital of Rajasthan state of India and is also a major tourist attraction. Visit the Anokhi Museum of hand printing displays and can also participate in workshops on various art forms organized on a regular basis. Visit Bagru village to see the block printing and another fascination is the heritage tour. Rajasthan is the mecca of art and craft and most of the cities have a focused skill-set, like Jaisalmer is popular for silver carving, Jaipur for tie and dye, Meenakari, miniature painting and pottery, Ranthambore for carpet weaving and the Blue City of Jodhpur is famous for Gotta-Patti embroidery and Zari embroidery that uses gold and silver filaments in creating intricate embellishments.
Next to Rajasthan, is the state Gujarat, which is very famous for Kutch heritage, art, and music and can experience an enriching tour of meeting artisans skilled in techniques of camel-wool weaving, leather art, and wood carving, Ajrakh block printing and tie-and-dye printing amongst others. Under textile, Gujarat ikat Patola sarees from Patan is world noted.
Comes next Central India, Madhya Pradesh is reputable for homing textile community, Maheshwar, they are into making of Maheshwari sarees. Take an excursion to the village of Chanderi, which is an age-old industry of weaving sarees with threads of gold and silver; next could be the excursion for the art lovers and connoisseurs to Maihar, heritage residency and India's first open-air studio for art installations in stone, metal, wood, etc.
The land of South India is blessed with a rich culture and heritage.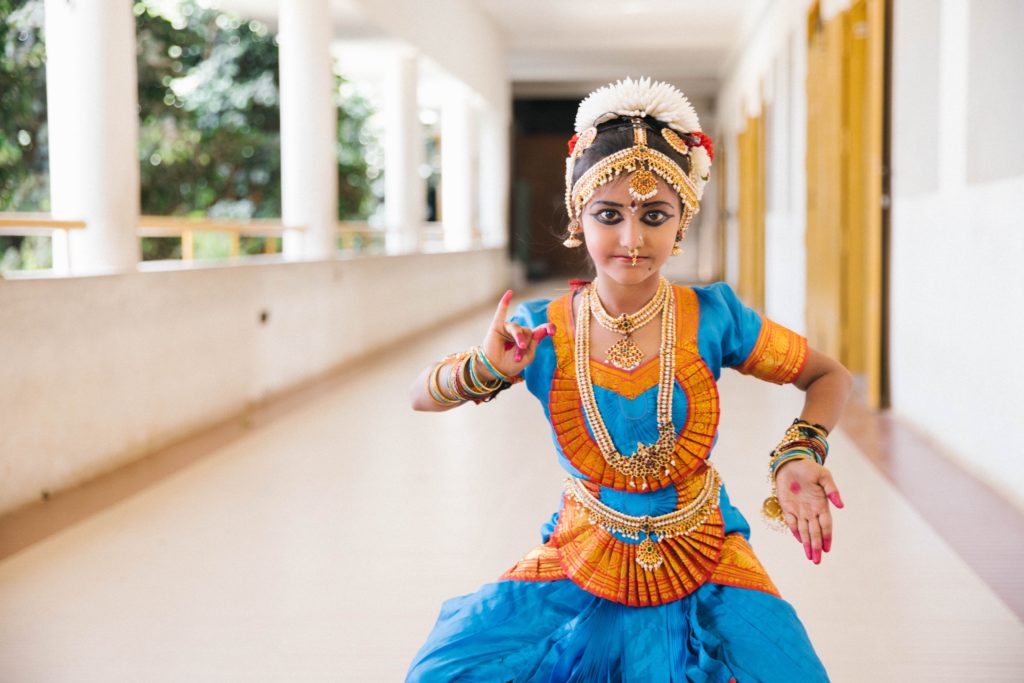 In the southern part, when in Andhra Pradesh go for Kalamkari fabric exclusively found in the Machilipatnam and Srikalahasti areas of the state. The art form of Kalamkari customarily displays the stories of mythological figures and deities and uses natural dyes and colors. Make a visit to the Pochampally Handloom Park where you can watch the exquisite Pochampally Ikat sarees and wonder at the intricate craftsmanship of the weavers. A trip to any part of the world brings one inevitable and irresistible activity along with it – shopping. Hyderabad has a rich history of elegant Nizams which is still visible in every nook and corner of the city. Walk through the local markets of Charminar in Hyderabad go for bangles, which are made using lacquer and exquisitely embossed with semi-precious stones. 
The next popular state is Tamil Nadu known for its looms, especially silk and cotton; under silk is Kanchivaram, saris are woven with threads dipped in silver and gold, making it one of the most valuable Indian saris. Visit Cholamandal Artists Village which is one of the largest self-supporting artists' villages and view the artworks under the contemporary art. Mysore celebrates its tradition of wooden dolls, so do visit the Channapatna Toy Factory and carry one as a souvenir after hearing tales from artisans involved in the making of this super craftsmanship. The next destination could be the Thanjavur Bronze Gallery, watch the process of bronze casting and can pick as a souvenir some interesting pieces inspired by Indian mythology.