Situated along the north-western edge of India (covering about 342,239 square kilometers or 10.4% of India), Rajasthan is the land of maharajas – the kings. Though the 5000-year-old state is known for its absolute royalness, quirky old-world charm, battle-scarred forts, throbbing pastel-colored cities, breathtaking sand dunes, and exquisite havelis around the world—there's definitely more to it.
A Glimpse of Rajasthan
Rajasthan has an illustrious history, and the architectural wonders are enough to tell the story of a golden age that once existed here in 700 AD. If you haven't been on vacation to any of Rajasthan's most visited cities (Jaipur, Jaisalmer, Udaipur, Jodhpur, and Pushkar), you're certainly missing out on a multitude of unique, unforgettable experiences. Here's a glimpse of Rajasthan.
Jaipur – The Pink City
Founded by Maharaja Sawai Jai Singh in 1727, Jaipur is the capital city of Rajasthan – a marvel to behold. This city is an exhilarating blend of the ancient and the modern, with spacious avenues characterized by colorful chaos caused by the presence of buses, mopeds, rickshaws, and camels. Located at the heart of the city, the City Palace is still home to the former royal family.
Major Attractions: City Palace, JantarMantar Observatory, Amber Fort, and Birla Mandir.
Reason for Popularity: Forts, Havelis, Shopping Markets, and Rajasthani Cuisine.
Recommended Activities: Wildlife Safari, Hot Air Balloon Ride, and Village Safari.
Jaisalmer – The Golden City
Founded by Bhati Rajput RawalJaisal in 1156, Jaisalmer is a princely city in the heart of the Thar Desert. This city is known for vibrant bazaars, enchantingly ornate havelis, and an imminent fort that rises magnificently from the golden plains. It is interesting to note that a bird's eye view of Jaisalmer resembles an image of a prince perched atop a ridge of sand dunes, crowned by the Jaisalmer fort.
Major Attractions: Fort RajwadaJaisalmer and SuryagarhJaisalmer Rajasthan
Reason for Popularity: Jain Temples, Desert Festivals, and Rajasthani Cuisine.
Recommended Activities: Desert Safari and Desert festival of Jaisalmer (January).
Udaipur – The Lake City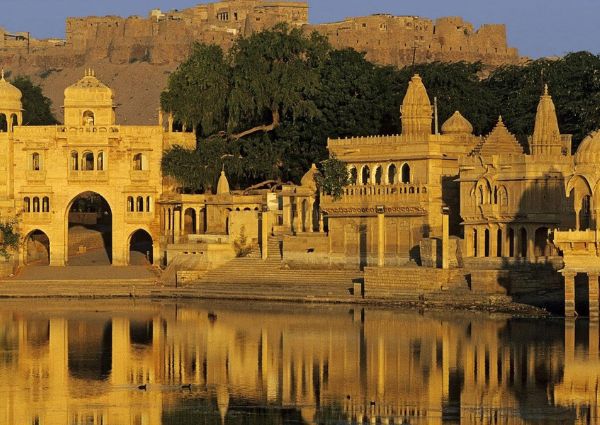 Founded in 1559 by MaharanaUdai Singh II, Udaipur is a city set around a series of artificial lakes. It's one of the most romantic destinations in India (and the world), packed with magnificent temples, palaces, havelis, and lively bazaars. Considering the rich traditions, colorful history, and mesmerizing landscapes, Udaipur is also referred to as the Venice of the East besides the City of Lake.
Major Attractions: FatehSagar Lake, Lake Pichola, UdaiSagar Lake, City Palace, Jagdish Temple, SwaroopSagar, Kumbhalgarh Fort, Monsoon Palace, and Jag Mandir.
Reason for Popularity: Lakes, Landscapes, Temples, Palaces, and Hotels.
Recommended Activities: Boating at Lake Pichola and Wedding Photography.
Jodhpur – The Blue City
Founded in 1459 by the chief of the Rathore clan, RaoJodha, Jodhpur is the second largest city in Rajasthan after Jaipur—and has much to offer visitors. The mighty Mehrangarh, an architectural masterpiece, presides over the entire city, while the bird's eye view features a Brahmin-blue metropolis that starts at the foot of the fort and sprawls out to the city wall built in the 16th century.
Major Attractions: Mehrangarh Fort, Mandore Gardens, JaswantThada, Kalyana Lake and Garden, UmaidBhawan Palace, SardarSamand Lake, GhantaGhar, and Masuria Hills.
Reason for Popularity: Landscapes, Forts, Lakes, Gardens, and Palaces.
Recommended Activities: Visit Forts and Palaces, Train Rides, Bazaars.
Pushkar – The Rose Garden of Rajasthan
Pushkar is a Hindu pilgrimage town that extends from a central holy lake— home to one of the few Brahma temples found anywhere globally. It is considered to be one of the oldest towns in India. Away from the buzzing backdrop of prayers, chanting, and drumming, the city is also famed for its annual camel fair, a colorful event that brings in around 200,000 tourists for a raucous celebration.
Major Attractions: Camel Fair, Serene PushkarLake, and Meerabai Temple
Reason for Popularity: The World Famous Camel Fair in November.
Recommended Activities: Boating in Lake, Temple Visit, and Camel Fair.
If you haven't been on vacation to any of these Rajasthan cities, it's high time you plan one. Now that you have a glimpse of this 5000-year-old state, you certainly can't just sit back and relax, so get in touch with Castle and King who will help you arrange a royal vacation to Rajasthan – the land of maharajas, where you can spend a few days or even months immersed in the state's illustrious history and culture.